With the rapid development of China's road conditions improve and automotive technology level, the speed of the vehicle is also growing fast.
If the car wheels of varying quality, at high speeds this will not only affect the comfort, but also increase the wear and tear of car tires and suspension systems, increasing the difficulty of controlling the car in motion, causing traffic insecurity .
To prevent this from happening, add the appropriate on the wheel with a small re-quality, high-speed wheel to maintain a dynamic balance, which is wheel weights. Wheel balance weight, also known as tire balancing blocks. Vehicle weight components are mounted in the role of a wheel balancer, balance wheel to keep rotating at high speed.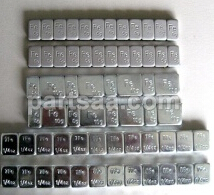 Ningbo Xiangsheng Auto Parts Co., Ltd.
Business Type:Manufacturer , Trade Company
Product Range:Passenger Car Wheels , Other Auto Parts
Products/Service:Wheel adapter , ATV wheel spacer , hub centric ring , leveling kits , Tire Parts , 4x4 offroad Parts
Certificate:ISO9001:2000
Company Address:B507/508, Crown Plaza,28-2,East Baizhang road  , Ningbo, Zhejiang, China